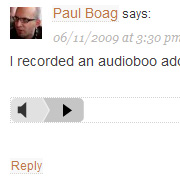 I was reading an interesting article on Boagworld called The biggest ecommerce lies and how to avoid them and I noticed that the author posted an audio comment to respond to some of the other comments that had been posted.
What a fantastic idea. I don't know if he's the first one to do this, but I think it's a great way to respond to a number of comments quickly without cluttering the comments section on your blog. Of course, some preparation would be required initially to set up something like that. Or maybe he's using a plugin? I really don't know, but I thought it was very innovative and could be a trend that others may follow. It's certainly a great way to personalize your blog.
So, watch out for audio comments, coming to a blog near you! Maybe audio embedding does have a future on the web.