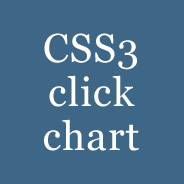 Since my knowledge of CSS3 is fairly shoddy, I decided to create and release a CSS3 "click chart" or "help chart" (for lack of a better term) that displays examples of some of the newest features in CSS.
The initial release only has 8 examples, with more to be added in the future. Each example visually displays the CSS3 feature, with a clickable heading that opens a box at the bottom of the page for information on that particular feature.
The box that opens gives a description along with browser support, an external link (usually W3C info), and some example syntax taken from the CSS of the page itself.
The CSS3 properties included are:
box-sizing
border-radius
shadows
RGBA colors
multiple columns
HSLA colors
gradients
multiple backgrounds
I don't claim to be a CSS3 expert, but I thought this would be a good way to gradually compile all the newest CSS3 properties, along with info on each, so I can start learning them myself and use them in future projects (gracefully degraded, of course).
Please offer your comments on any that are missing, or any corrections. The click chart is best viewed with Chrome or Safari.