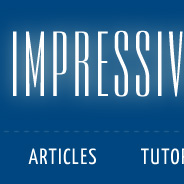 Over the past week, I've redesigned Impressive Webs, and today it's launched. The last design got old quick, and I felt it wasn't as good as it should have been.
This design didn't take me too long, since the basic structure and layout of the site is still somewhat the same. I think it's a little cleaner and more professional looking, and it was certainly influenced by some of the great designers I've observed over the past year or more while blogging regularly.
I'm hoping that certain features of the design will allow for creativity within individual posts at any time in the future, should I decide to venture into that area of design blogging.
Features of the New Design
Centered-logo header, which is something I've noticed and liked on many sites
New logo, created with a font called "Empire BT"
Collapsible header (I may incorporate cookies to save the state)
Some CSS3 transitions for the rollover colors on the main nav and post headings
HTML5 doctype, but I haven't incorporated any HTML5 features yet
Headings use a font called Yanone Kaffeesatz, from the Google Font API
Because the headings font is unusually sized, I'm using a JavaScript plugin to ensure the font stack doesn't break the layout
Overkill on dashed lines
As far as I can tell, works in every browser, with some small issues in IE6
There are still some small details that I will iron out over time, but generally, I think it's an improvement over the last design.
What Do You Think?
Go ahead and offer your comments, criticisms, observations, or any bugs you notice in any browser. I have not tested on a Mac, so maybe my statement that the design looks good in every browser is a little hasty. But I feel pretty good about my cross-browser abilities, so I think it should be fine. Maybe I'll eat my words.