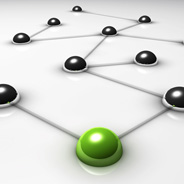 If you've followed Smashing Magazine for some time, you know that they at one time had a section of their site called "The Smashing Network" which had a feed of links to articles from various sites in the web development and design blogging industry. That section is now gone, though.
To some extent, I miss the Smashing Network. Not all of the articles in the Smashing Network were of great quality, but I liked that I could scan a few pages of links every couple of days to see what kinds of CSS articles were being published in the Network.
Well, to make up for some of that loss, I've added a new section to Impressive Webs called The CSS Network. It's nothing fancy, just a regularly updated list of external links covering the topic of CSS. It will have articles, tutorials, and occasionally a cool demo from places like CodePen.
The links in that section will not necessarily be "new". Sometimes I'll post older things that I think are of interest to CSS developers.
No Formal Submissions
I'm not accepting submissions in any formal way. The links will just be stuff I find that I have read and liked, or that I intend to read. And the focus is going to be on CSS. It's been officially live since Friday, and it already contains some links.
I'm using an old WordPress plugin called External Permalinks that lets you link post titles to external sources right on the category page. There is a similar but newer plugin available, but I was able to get the old one working how I wanted. With that in place, users can click right through without having to view an extra post page on my site.
I've also set up a separate RSS feed just for the CSS Network. If you click from the RSS feed, however, you will have to view an intermediary page on Impressive Webs before visiting the site. I couldn't figure out any way to change that.
I hope everyone finds The CSS Network useful for getting up to date on news, tips, tricks, and techniques related to CSS.