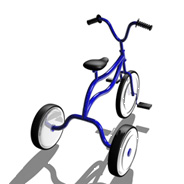 Over the weekend, my wife and I had the privilege of taking care of two of our friends' children, while their parents had a night out at a local show. When the kids' mom was showing us a few things around their apartment, we noticed that their daughter's bicycle had no pedals on it. That was a little peculiar, so we inquired about it.
Her mother said she wanted her daughter (who is about 5 years old) to have her feet on the ground as she learned to ride her bicycle. This would allow her to remove her feet from the ground only for short amounts of time, thus practicing her balance without pedals or training wheels. In this way, she could focus purely on balancing herself, and not worry about trying to do more than one thing at a time.
I'm not really sure where her mom got this idea from, or even if it is any good for learning to ride a bike, but it reminded me of what I personally prefer when it comes to learning new skills in web design or development.
Focus on One Skill at a Time
I believe you can become a much more valuable and refined developer if you don't allow yourself to get too distracted with what you don't know, and just focus on continuing to improve your skills in what you do know.
Here's what I mean by this: You might have beginner or low-intermediate knowledge in JavaScript, but maybe you haven't yet taken the time to delve too deeply into any of the popular JavaScript libraries like jQuery, YUI, Dojo, or MooTools. You've done a few cut-and-paste jobs with a few scripts, and you've utilized a few library plugins, but you haven't learned to use those libraries in your own JavaScript code, creating custom scripts, and so on.
The best way to handle this is to remove your bicycle pedals — that is, forget about trying to learn advanced JavaScript and advanced jQuery at the same time. Concentrate purely on just one of those things, preferably pure JavaScript. When you get familiar with object-oriented JavaScript concepts, you'll pick up jQuery in no time. In fact, most good jQuery books will tell you to learn specific JavaScript concepts and principles to really improve your jQuery abilities anyhow.
Or maybe you're pretty good with Photoshop, but have never touched Illustrator. You see tons of awesome stuff being done with Illustrator, and you're wondering if you're missing the boat on some great graphic design opportunities. My advice is to continue to refine your skills in Photoshop and forget about Illustrator for now. Gain expert-level status, or near that, in Photoshop before you move on to Illustrator.
And the same would be true if you're contemplating putting your PHP skills on pause while you try your hand at Ruby. I don't know about you, but I'd prefer to hire an expert PHP developer who knows nothing about Ruby over someone that knows both languages at a low-intermediate level.
Expert-Level Skills are More Valuable
Focusing and refining your skills in one specific area will help you to work towards expert status in that area. Being able to have extensive skills and expertise in a few areas is, in my opinion, much more valuable nowadays than trying to wear too many hats — although I'm sure some will disagree.
I'm sure our friend's daughter is getting some quizzical looks from her friends while riding her bike on the street — "Where are your pedals?" But just imagine how well she'll be able to balance herself when those pedals are put back on her bike!