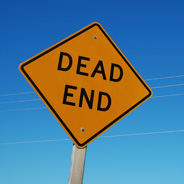 Maybe it's just me. Maybe I'm a JavaScript debugging n00b, or maybe it's my limited knowledge of Firebug.
While I fully support the use of unobtrusive JavaScript in all projects, I do find it has one weakness: Connecting the HTML element with the code that acts upon it.
If you've been coding JavaScript since the dark ages of the web, you'll know that JavaScript used to be commonly implemented in an obtrusive fashion that mixed markup with behaviour, which made your code messy, and added extra code to every individual page rather than putting it in an external reusable file.
Here is a simple example:
<a href="#" onclick="doSomething(); return false;">click this link</a>

If you did this once, it wasn't such a big deal. But when multiple events were added to the DOM, this slowly became a nightmare for maintenance and page bloat, and so this method has mostly been done away with.
But, in my opinion, the maintenance issue is still complicated somewhat due to the fact that there is (apparently) no easy way to find out what behaviours occur on what elements.
Let me show you a simple example. Here's the HTML:
<a href="#" id="myLink">click this link</a>

When you click the above link, any number of things could happen. Maybe it opens a modular window, maybe it causes something to slide up or slide down, maybe some content appears, or maybe an Ajax-based event is called. You'll only know what happens if you click the link. But where does the event come from? Since we have no inline function call, how can we find out where the code is located?
How Do You Track Down the Code?
We could do a search in one of our external JavaScript files for the id "myLink", assuming that the event is based on that selector. But what if there are multiple files to look through? Well, then I suppose if we have a good text editor, we can do a project-wide search for that particular id. But this would still take a little bit of time.
In my opinion, although the obtrusive method is not desirable, it's much easier to deal with. Especially since we don't always know just by viewing the HTML if an element is being targeted by JavaScript. In the above example where the link has an id, we suspect that there might be some JavaScript behaviour acting on the link, but we don't really know for sure just by viewing the HTML.
And this process becomes even more complicated if the element is targeted through the id of a parent element, or through an element type selector.
Does Firebug Help Us?
I have tried to use Firebug to do this, but the best I can see that it does is tell you what scripts to look in, which doesn't really help much, since I could just do that on my own. I ran the problem by a JavaScript contact of mine, and he agreed that it was not easy to do this with Firebug, because when a developer uses Firebug, they're normally working from the source files, so will already know which events act on which elements.
This process would especially be complicated if there were multiple behaviours on the same page, multiple scripts being loaded, and if jQuery or another library was thrown into the mix.
Someone on Twitter suggested using the "Break on…" features in Firebug. Those options are available when you right-click an element inside the HTML inspector. I couldn't figure out how to use those features to identify the event, file name, or line number. I'd be glad to hear if someone is able to use that feature to track down the code that fires an event.
Additionally, some solutions have been proposed on Stack Overflow, but many of them are somewhat complicated and seem to be more time consuming than should be necessary.
A Nice Bookmarklet That Solves Part of the Problem
A couple of the posts on Stack Overflow included mention of a bookmarklet called Visual Event, so I checked it out. This is a must-have bookmarklet for JavaScript developers. After you drag the bookmarklet to your bookmarks bar, just visit any page and click the bookmarklet. The page will be overlaid with a visual representation of all JavaScript events being fired, and where they're located in the DOM: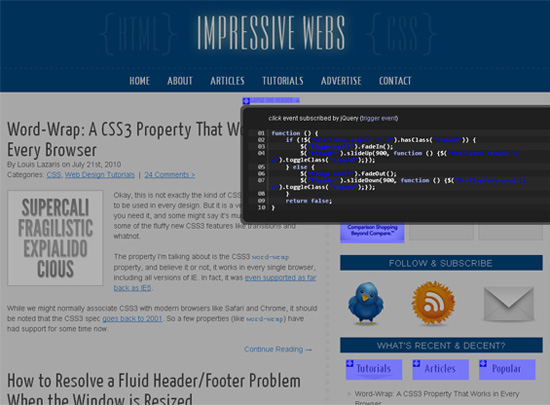 As you can see from the above screenshot, when the bookmarklet is triggered, the page is overlaid with some semi-transparent elements to indicate where the events take place. If you hover over any of the blue visuals, the code that fires the selected event appears in an another overlay. This is great, and can help us more quickly to figure out where to find the associated event.
But it still has one small flaw (unless I'm mistaken): It doesn't tell us what specific JavaScript file to look in. So, we still have to rummage through our external files, which is the same problem mentioned earlier when using an element selector (although the code revealed by the bookmarklet does give us a definite way to find the event, since the exact code is shown. It just takes a little more time than I would like).
A Possible (But Tedious) Solution
I have a very simple solution that allows the developer to be able to see immediately from viewing the HTML (whether in a DOM viewer or just by viewing the source) where to find the behaviour for that element:
<a href="#" id="myLink">click this link</a>
<!-- JS: scripts/link.js line 34 -->

The HTML comment below the link tells the developer 3 things: (1) An unobtrusive JavaScript event is acting on the link; (2) the path to the file that contains the code; (3) the line of code inside the file where the behaviour occurs. But admittedly this might be overkill.
In many cases, it would not be very practical to include all those details. There might be new code added to the file that changes the line number, or the file itself might be merged with another file. So, you obviously don't want to have to change all your JS "comment hints" whenever you make modifications to your code. So maybe this solution without the line number would work better:
<a href="#" id="myLink">click this link</a>
<!-- JS: scripts/link.js selector: myLink -->

Now the code tells you that there's definitely a JS event occurring here, and where to find it. I've also included a selector name that indicates how the element is targeted in the JS file. So while the bookmarklet shown above tells you an event is present, and gives you the code, this solution tells you what file to look in. I think the two methods combined improve the ability to find events over what may or may not be possible with Firebug.
What About Dynamic Comment Injection?
An interesting solution was proposed by my JavaScript contact, mentioned earlier. He suggested including a "helper function" that could run when each event is called, and this would add the comments to the code on the fly. This solution, according to him, would be used in conjunction with Firebug, from which you would get the info you need (file name, line number, etc.)
Thus, the HTML would be clean and the comments would still be viewable through the generated source. This could work quite well, and would prevent any changes in the code from altering the comment, because the comment info will be injected based on where the event is actually located.
How Do You Find Events in Foreign Code?
As I mentioned at the outset, it could just be my limited abilities with JavaScript, Firebug, or related tools that makes it difficult for me to track down code in foreign or inherited projects. And while the simple solution I've offered isn't the most practical, in conjunction with the bookmarklet, it could work temporarily in a team environment where events need to be tracked down more rapidly.
Does anyone have a better and easy-to-use solution? I'd love to hear your thoughts on this.