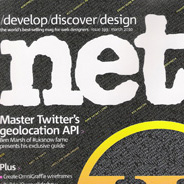 First, let me state up front that .net magazine is a must-read for anyone working in web design or development. It is a fantastic, well-researched, well-edited, and cutting-edge publication that has contributed enormously to the web design industry, and has personally helped me to complement my online reading with a vast array of invaluable information.
I especially appreciate articles written by familiar bloggers and designers from around the community, some of whom I've personally been privileged to interact with. The magazine's editors truly go above and beyond to ensure they've (as they state on page 8 of every issue) "scoured the web" to find the web's best talent. In recent months, they've published articles by Alen Grakalic, Soh Tanaka, and Chris Coyier, the latter of which was a major cover feature on WordPress. Many of us are no doubt familiar with those names, so it's exciting to see them get such recognition.
But the magazine has its flaws, and although it's (by default?) my favourite web design magazine, I still think it could be better. So here are my (admittedly whiny) complaints about .net magazine, and how I think it could improve.
The Name of the Magazine
What exactly does "dot net" mean, anyhow? I think it was a catchy name in the 90s before Microsoft started using it, but I can't see why it would stick for this long as the title of a monthly web design mag. I understand that for marketing reasons changing the name may not be a good idea, but what about removing the dot, as some have suggested?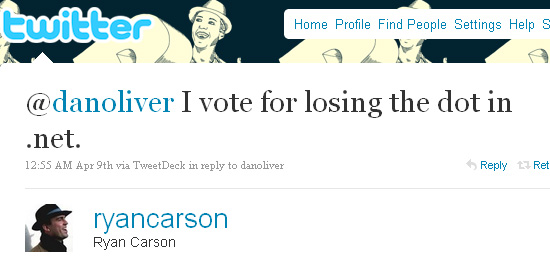 Ryan Carson Joking About the Name of .net Magazine
Although the name "Practical Web Design" isn't as catchy, they do use it for the North American version of the magazine, showing that they partially recognize the weakness in the name. So, my opinion is, find a catchy, but more appropriate name that isn't as ambiguous as ".net" and isn't as boring as "Practical Web Design".
Too Much Emphasis on Flash
Yes, I'm bashing Flash — deal with it. It seems to me that the U.K. and European markets appreciate Flash-based applications and websites a lot more than their North American counterparts. I'm not sure if that's good or bad, but I think it would explain the reason that .net continues to promote Flash-based content. There's a Flash tutorial pretty much every month , and many of the sites featured and discussed throughout the magazine are Flash-based.
A perfect example is the website of the Cheese & Burger Society shown above, which was featured in a recent issue where the creators discussed how they built it. It's a beautiful, creative, and inspiring website, and the discussion of how the site came about was very interesting. But how practical is it as an example for the majority of developers?
Obviously Flash is a big part of the web design industry — but I think .net could do more to help educate users on accessibility and web standards, and not put so much focus on bloated, superficial websites.
Not Enough Practical Tips and Techniques
The magazine contains a good amount of info covering CSS, JavaScript, HTML, and PHP tips. But that type of content is quite minimal when you compare it with the content covering web marketing, hardware, security, social media and other topics that might relate well to large design agencies, but may not be so practical for beginning to intermediate designers, developers, and freelancers.
Many of the interviews are not really all that practical. There's often a lot of info on theoretical marketing and other somewhat generalized topics, but the magazine is somewhat lacking in practical down-to-earth articles discussing things that most web developers can actually use. Years ago, .net magazine was sold as part of a 2-magazine set, the other called "Web Builder". So maybe during that time attempts were made to separate theory from practical tips — I don't know.
As much as I appreciate what the magazine offers, I just think it could offer more. Of course, the argument could be made that straight tips and tutorials are already provided online in great abundance. So maybe the balance they provide is just right. But sometimes I finish reading an issue and, although thoroughly entertained, didn't find a whole lot that I could use in any immediate situation.
Too Much Info on Social Media and Related Topics
Yes, social media is important. Yes, every developer should have a Twitter account and a Facebook page, and a LinkedIn profile, etc. And there is enough information and news on the web that could fill entire volumes discussing social media and its relevance on the web. But again, how much of the magazine's content related to social media is actually practical, or immediately usable?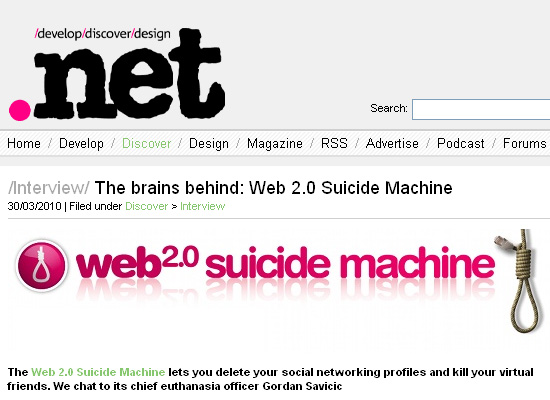 An Article on .net about a Social Networking Tool
I guess a large focus of the site is similar to what you find on sites like Mashable, Slashdot, and Engadget. Those sites provide interesting and valuable content, but I would hardly deem those sites required reading for web designers.
How Could the Magazine Improve?
More emphasis on website creation, including practical tips related to coding websites using XHTML, HTML5, CSS2, CSS3, PHP, Ruby, JavaScript, JavaScript libraries, WordPress, and application Frameworks like Drupal and Joomla.
More emphasis on web standards, accessibility, progressive enhancement, and the state of HTML and CSS specifications on current and proposed standards. More tips on improving page speed and website performance. More info on browser developments, cross-browser coding solutions, and browser bugs and pitfalls.
More practical tips on freelancing and project management, including dealing with clients from the start of a project to its completion.
More emphasis on creating and maintaining JavaScript and Ajax-driven web apps.
More emphasis on content strategy, information architecture, and usability — all of which should be presented in real-world, practical articles that people can use almost immediately.
What Do You Think?
Sure, I don't run a big magazine, and I have no idea the complexity of the challenges the authors and edtors of .net have to face, or the pressure put on them by advertisers. I also have no idea what kinds of changes they've made over the years, since I've only been reading the magazine for about two and a half years. So maybe my recommendations here are out of line, and I'm not seeing the big picture.
But I do think the magazine could be more focused, and more driven towards helping developers in real-world ways, and have less emphasis on news and passing trends that have little or no impact on most people in our profession.